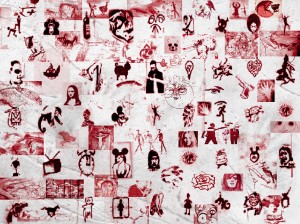 Donald Trump:   Nobody builds walls better than me, believe me—and I'll build them very inexpensively. I will build a great, great wall on our southern border, and I will make Mexico pay for that wall. Mark my words. 
Ancient traces imply that drawing was the first form of human expression. Dance, music, sounds, and environmental markings surely appeared in prior millennium as multi-modal forms of communication. However, visual representation is the form that has shaped our destiny throughout history.
Image is virtual substance on top of a concrete world. When 40-millenia-old cave art survives longer than all known civilizations, religions and empires, it is Neanderthal substance that we see. With the invention of walls, the surfaces of image have migrated in all directions in a momentum that appears unstoppable even as the civilization of walls is being supplanted by screen image. In that sense, walls have become transparent, reflective, touchable,
and responsive.
Caves, walls and screens have become the landscape of creators. They are the surfaces of creation, the space of image.
Ludovic Duchateau:   The Gagosian Gallery in Chelsea is larger than some museums. I saw guards standing by every third painting at a Jean-Michel Basquiat exhibition. This high security imposed on the creations of a graffiti artist is symptomatic of an absurd situation.
We lose the meaning of what we make when it falls in the public eye and we lose its value when it falls in anyone's hands.
Andrei Tarkovsky:   Artistic creation, after all, is not subject to absolute laws, valid from age to age; since it is related to the more general aim of mastery of the world, it has an infinite number of facets, the vincula that connect man with his vital activity; and even if the path towards knowledge is unending, no step that takes man nearer to a full understanding of the meaning of his existence can be too small to count.
Whether true or not, we can always proclaim that a creation is art, that it is a representation and that its subject was real. We tend to see in the hand behind a creation the authenticity of what we want it to stand for. We now see hands as 40,000 year old traces of humans in Indonesian and Southern European caves.
Erik Adigard, M-A-D
related project: Scalacupola media installation