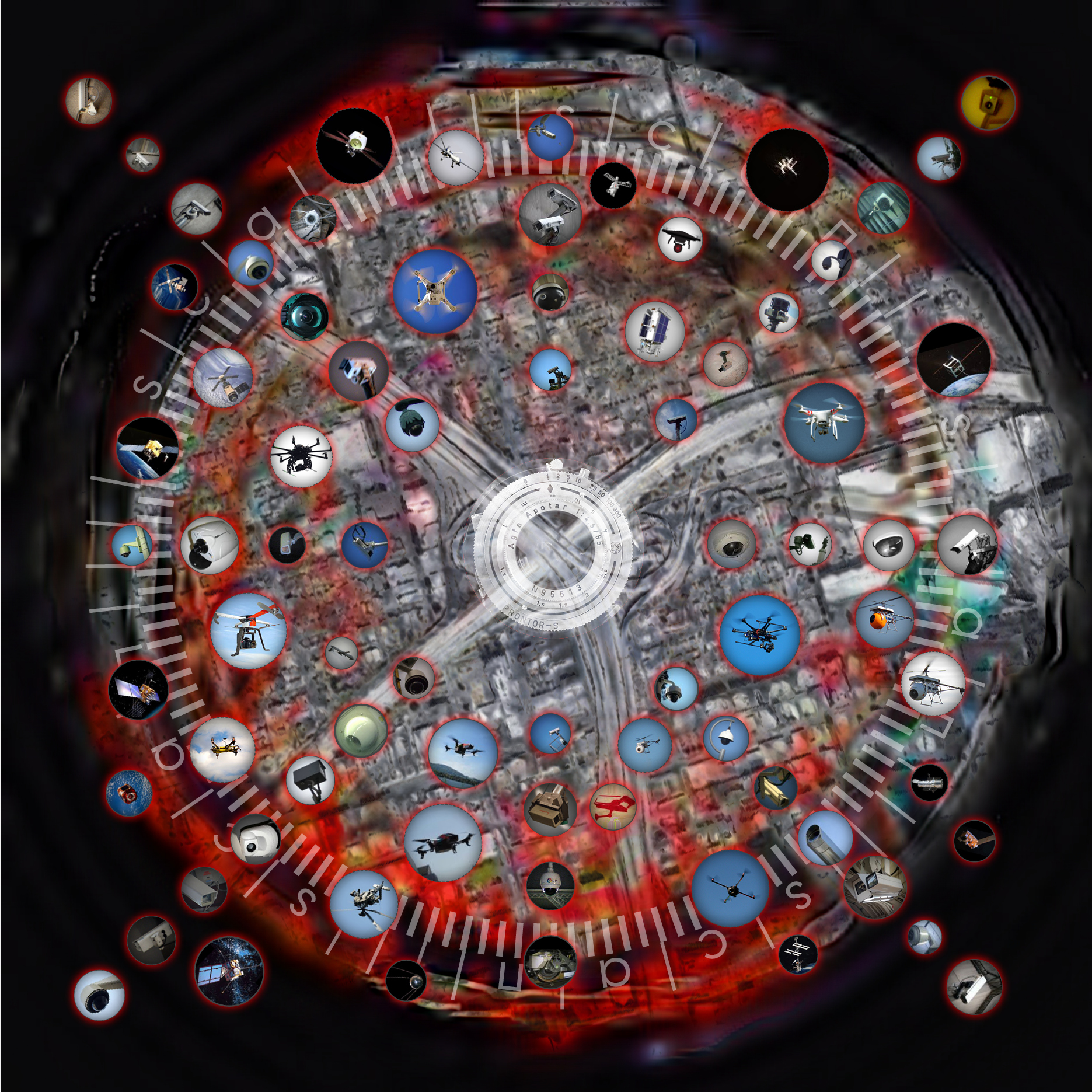 SIMAGE: Image is power, therefore, it is always at the service of power. But what is power and who is power?
The answer to such questions has changed when the act of making an image doesn't just belong to humans. Today, it also belongs to machines.  drones & cameras are both image makers and perhaps image thieves.
Mark Petrakis: Drones fly by, but they do not see us. They only see our high school yearbooks. Same with Facebook which exposes all, and in so doing, secretly hides the truth.
The re-engineering of information alters the DNA of daily narrative. It is Telemetric Theft: the manipulation of code, with its tsunamic currents, all of which reverses the dominance of nostalgic media. Today's book is an electronic sneeze. The instruction set is all that is saved when pulpy masks turn dog-eared.  By programming, the world is transformed into a specter—a dimension of shadow more than substance – most forcibly demonstrated by surveillance bots. A new panopticon abstracts and reconfigures human thoughts, behaviors and actions into increasingly self-aware sets of attributes and values, which can then be translated into new data sets.
At the same time drones also bring us back to mere remote controls.
dailymail.co.uk: Britain is now being watched by 4.2million surveillance cameras—one for every 14 people and a fifth of the cameras in the entire world.
MARSHALL McLuhan: The more the data banks record about each one of us, the less we exist.
Ted rempel: As we increasingly extend ourselves, we become less human. We augment sight while loosing our own capacity to see.
Hal 900: Look Dave, I can see you're really upset about this. I honestly think you ought to sit down calmly, take a stress pill, and think things over.